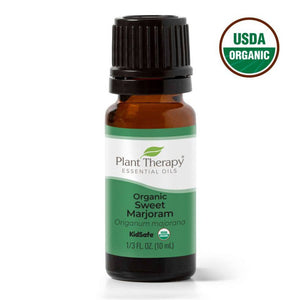 Sweet Marjoram Organic Essential Oil
This precious essential oil is a comforting oil at all levels. With its slightly sweet, herbaceous scent that is fresh and medicinal, Organic Marjoram will become a staple in your house!
Use it during seasonal threats in a blend to support the respiratory system and comfort the senses. Organic Marjoram can be used with Plant Therapy carrier oil to relieve discomfort during the menstrual cycle, as well as alleviate sore, achy muscles. It is a favorite to use to calm the mind and body before bedtime.
Whether used in a diffuser or added to your favorite Plant Therapy carrier oil for a relaxing massage that can help you sleep easier, this essential oil will be a comforting friend always.