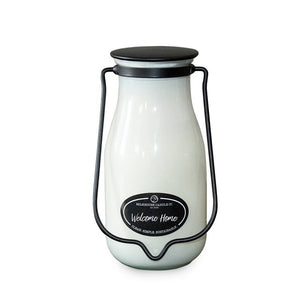 Milk Bottle 14 oz: Welcome Home

Warm hearth fires and fresh baked goodies from the oven. Sweet, spicy, fruity, and delicious.
This 14oz Large Milkbottle is the latest edition to the Creamery Glow Collection.
This beautifully updated and nostalgic shape is an excellent addition to any home decor. Now all white with a black handle, metal topper, and label.
This timeless classic offers over 90 hours of burn time. It contains 100% paraffin-free, all-natural soy and beeswax, no artificial dyes, and has a lead-free cotton wick.