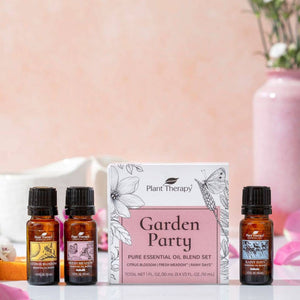 Garden Party Essential Oil Blend 3 Set
Citrus Blossom: Bright and bold, with sweet and earthy scents, Citrus Blossom is reminiscent of a fresh field of blooming wildflowers reaching toward the warm sunshine. Its soft floral notes blend with an earthy and woodsy troupe of Balsam Fir, Amyris, Cedarwood, and Patchouli, with the mood-boosting and invigorating oils of Sweet Orange and Katrafay providing vibrant, sparkling top notes. Diffuse Citrus Blossom to enliven your home with the sweet, sunny scent of spring, or add to your favorite DIY body care recipes for a unique, naturally scented product.
Fresh Meadow: An enchanting blend of citrus and sweet with a hint of spice, Fresh Meadow is both uplifting and calming to the senses. Like a breath of fresh air whenever you need it, the sunny Orange and Bergamot mix with the warm, spicy, and floral notes of Amyris, Ginger, and Jasmine. When diffused, Fresh Meadow brings the scent of a spring breeze into your home with its blend of bright sunshine, new blooms, and carefree days.
Made in United States of America